Empire of Storms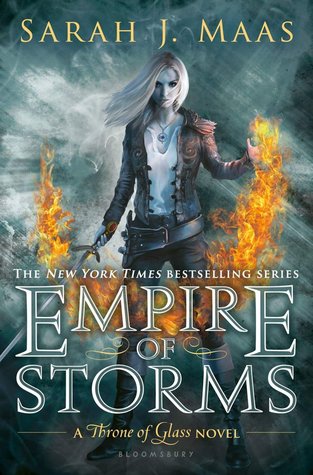 Sarah J. Maas
YA Fantasy/Romance
The long path to the throne has only just begun for Aelin Galathynius. Loyalties have been broken and bought, friends have been lost and gained, and those who possess magic find themselves at odds with those who don't.

As the kingdoms of Erilea fracture around her, enemies must become allies if Aelin is to keep those she loves from falling to the dark forces poised to claim her world. With war looming on all horizons, the only chance for salvation lies in a desperate quest that may mark the end of everything Aelin holds dear.

Aelin's journey from assassin to queen has entranced millions across the globe, and this fifth installment will leave fans breathless. Will Aelin succeed in keeping her world from splintering, or will it all come crashing down?
I loved the first book of these series, but (in my opinion) every book has gotten worse (still good, just not as good). I'm not sure what to write for this one, because the story was very good, but there was almost as much negative content.
The story and the characters are great. I loved how they finally all met and the journey. Abraxos was amazing.
I didn't like how it felt like every other chapter, characters were trying to sleep with each other (sometimes semi-graphically). It felt like there were too many points of view (you need them to see all the different sides of the story, though).
I honestly haven't liked Aelin much. I really respect her, and she is spectacular, but I just liked Celaena a lot better. Rowan and Aedion were both cool points of view (I liked them better than Aelin), but Elide and Manon were my favorites. Elide was the only semi-normal/non-special person in the group (yet absolutely awesome) and Manon because I  (in a small way) connected with her through her loyalty and emotions (again, in a small way), just enough to like her a lot. Lysandra, Dorian, and Lorcan were great friends/co-characters.
Aelin, Rowan, Aedion and the others are very powerful warriors. You'll have to be okay with violence, some graphic deaths, and injuries (someone gets burned from the inside out, some thing bursting out of someone's stomach, whippings, etc.).
Right, the romance… Where to start. As I said before, it felt like every other chapter, characters were sleeping/trying to sleep together. There are definitely some pretty graphic scenes (it made me me feel weird enough that I was glad I was reading it at night). They talk about it later (quite a bit).
Aelin is implied to use as much filthy language as clean. Sarah mostly just says she swore 

very

colorfully, but some of the words do make it in there.
I would be careful of who I would recommend this book to.
I would like to warn people that the series doesn't say as clean as the first book. I hope the last book isn't as bad as this.
⭐ ⭐ ⭐
Similar Books
693 pgs.
Bloombury
Sept. 2016
Throne of Glass #5
---
Sarah J. Maas is the New York Times and USA Today bestselling author of the Throne of Glass series, as well as the A Court of Thorns and Roses series.
Sarah lives in Bucks County, PA, and over the years, she has developed an unhealthy appreciation for Disney movies and bad pop music. She adores fairy tales and ballet, drinks too much tea, and watches an ungodly amount of TV. When she's not busy writing, she can be found exploring the historic and beautiful Pennsylvania countryside with her husband and canine companion.
---
Have you read The Throne of Glass series? What did you think?
P.S. Sorry, no gifs.